Der Absprung

Residenzschloss Altenburg (DE), 2018
Services: sound concept, sound design, onsite mixing
Categories: audio drama, art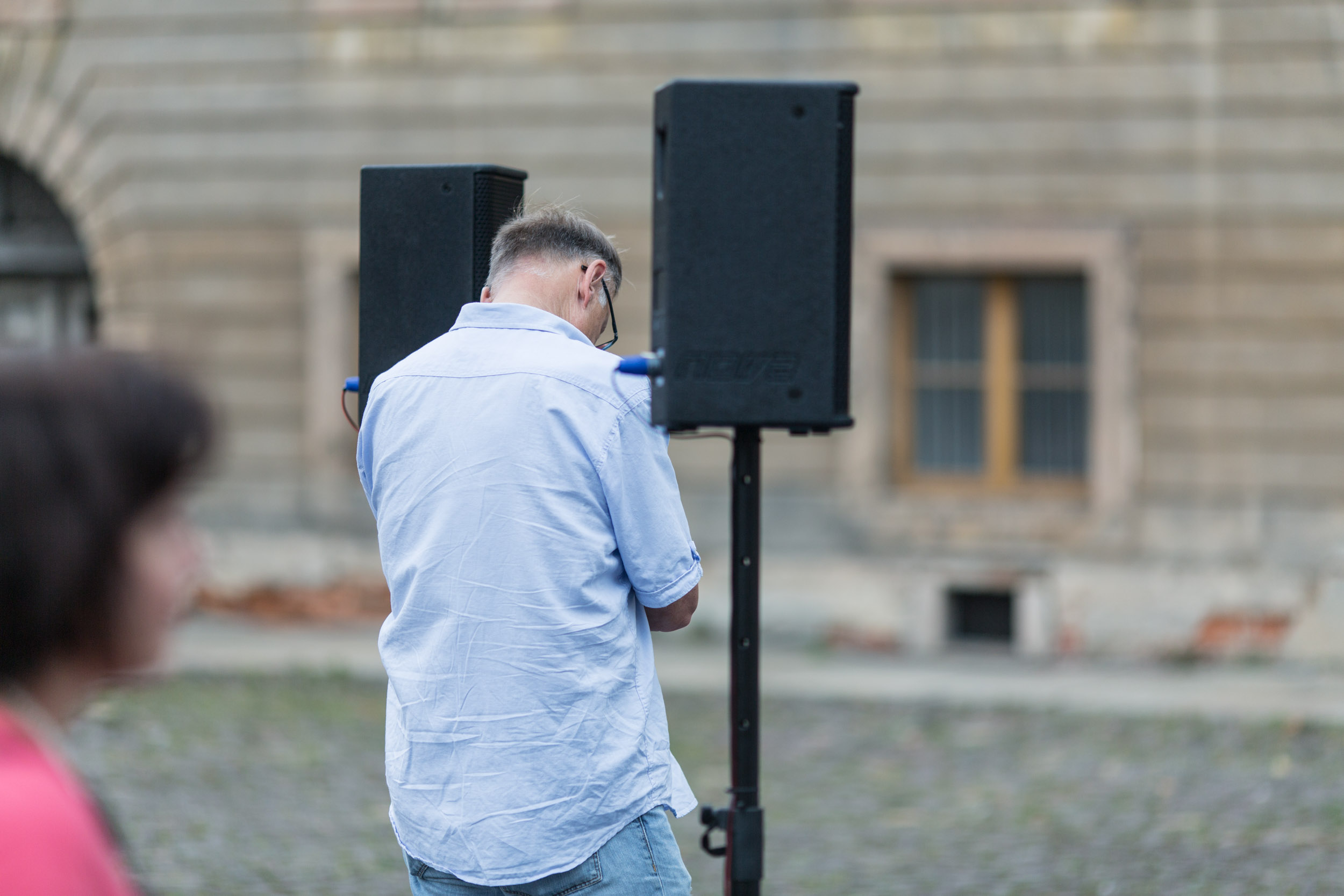 "Der Absprung" (Ger.: take-off) is shown as a 20-channel audio installation which premiered in the Thuringian Altenburg Castle in the summer of 2018 and has later been presented at the ZKM Karlsruhe in November. After "Future Dealers" and "Servile Ghosts," it forms the third and final part of Paul Plampers "Strangers & Ghosts" trilogy dealing with the construction of the concept of the stranger.

A fictive East German town called Leerstadt, or "empty town," its population is shrinking. In 2015, refugees arrived in the city. The conflicts over immigration escalate as a new-right demagogue takes advantage of the anger and fears of the citizens and calls for a boycott of the city theater. There, the multinational theater company is rehearsing a controversial performance with a leading actor from Cameroon. The city gets into a media whirlwind about racism allegations and "East-Germany" prejudices as members of the theater announce they are leaving Leerstadt. The audio drama tells of disunity, the creation of rival political camps and aims to paint a multi-layered portrait of the current social perspectives.
A sculpture made up of 20 loudspeakers was the center stage of the radio piece, where the audience was right in the middle of the story. The installation at the Altenburg Castle was made up from loudspeakers positioned in the courtyard as well as a speaker placed on top of a springboard in the castle window; additional speakers were placed at a distance. Creating an impression of intimacy to the voice-over artists who surrounded the audience at ear level, the staged space seamlessly blended with the sounds of the real city through the speakers distributed across the courtyard.
Script, Director and Editor: Paul Plamper
Dramaturgy: Martina Müller-Wallraf
Production, dramaturgical collaboration, and editing: Felicitas Arnold
Assistant director and editor: Tilman Meckel
On-Location mix and sound design: Johannes Scherzer
Recordings: Johannes Scherzer und Michael Krajczok
With:
 Artur Albrecht, Stefan Cordes, Felicia Descher, Richard Djif, Andy Drabek, Fernanda Farah, Ulrich Gerhardt, Margit Hahn, Carl Hegemann, Fabian Hinrichs, Michael Kinkel, Cristin König, Sophia König, Peter Kurth, Franziska Niermann, Tina Pfurr, Peter Schellenberg, Petra Sparbrod, Christian Weber, Dana Weber u.v.a.
---
Related projects